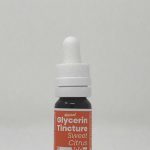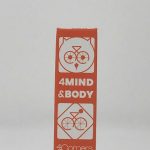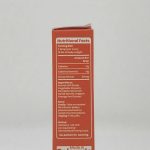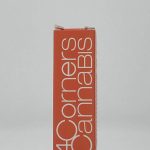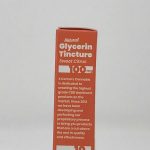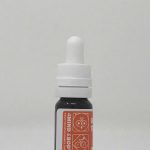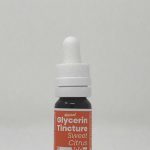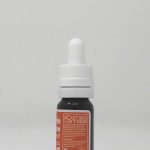 4 Mind & Body
$29.99
Our Glycerin Tincture is a sweet and tangy alternative to our other tinctures. The versatile "Orange Label" provides all of the same benefits that our other products supply, but with many modes of use; take it as a stand-alone, use it to sweeten your favorite beverage, it can even be vaped. It's also a great option for anyone with coconut or avocado allergies.
Ingredients: Vegetable Glycerin, CBD dominant hemp extract, Limonene (orange extract)
*All our CBD products are free of diacetyl (the compound that causes popcorn lung).
Additional information
| | |
| --- | --- |
| pesticides_oxamyl | <LOQ |
| Claimed CBD Per Dose | 3 drops per every 10 lbs of body weight, once a day. (.50 mg of CBD per drop and 10 mg per ml of fluid) |
| Days to receive shipment | 5 |
| pesticides_carbofuran | <LOQ |
| pesticides_acequinocyl | <LOQ |
| solvents_acetone | <LOQ |
| pesticides_spiromesifen | <LOQ |
| pesticides_tebuconazole | <LOQ |
| price/cbd | $0.30 |
| pesticides_thiacloprid | <LOQ |
| solvents_n_hexane | <LOQ |
| solvents_pentane | <LOQ |
| solvents_propane | <LOQ |
| solvents_solvents_unit | ppm |
| solvents_toluene | <LOQ |
| pesticides_captan | <LOQ |
| pesticides_carbaryl | <LOQ |
| solvents_ethylene_oxide | <LOQ |
| pesticides_thiamethoxam | <LOQ |
| solvents_benzene | <LOQ |
| solvents_heptane | <LOQ |
| solvents_acetonitrile | <LOQ |
| Servings Per Container | 60 |
| pesticides_piperonyl_butoxide | <LOQ |
| pesticides_trifloxystrobin | <LOQ |
| Actual Total CBG mg/package | 3.2 |
| Claimed CBD per bottle (mg) | 100 |
| Actual Total CBN mg/package | 0 |
| Manufacturer product URL | |
| solvents_isopropanol | <LOQ |
| pesticides_acephate | <LOQ |
| pesticides_etofenprox | <LOQ |
| Units Per Serving | 1 |
| Actual Total d9_THC mg/package | 2.23 |
| Actual - Claimed CBD Per Package | -15.36 |
| $/mg THC Actual | $13.45 |
| $/mg Total CBD Actual | $0.35 |
| Pass/Fail Solvent? | Pass |
| Product Order Number | 39882 |
| Pass/Fail Pesticide? | Pass |
| Price/oz | 88 |
| pesticides_bifenthrin | <LOQ |
| Total cost | $29.99 |
| pesticides_bifenazate | <LOQ |
| pesticides_azoxystrobin | <LOQ |
| pesticides_aldicarb | <LOQ |
| pesticides_boscalid | <LOQ |
| solvents_chloroform | <LOQ |
| pesticides_spiroxamine | <LOQ |
| solvents_xylenes | <LOQ |
| Flat/Volume | Free |
| Product cost | $29.99 |
| Taxes | $0.00 |
| Product Variation Size oz | 0.338140227 |
| Product Variation size ml | 10 |
| Product variation flavor | Coconut Oil, Vegetable Glycerin, Vegetable Glycerin and Cinnamon, and Avocado Oil |
| Actual Total CBD mg/package | 84.64 |
| solvents_butane | <LOQ |
| solvents_methanol | <LOQ |
| pesticides_etoxazole | <LOQ |
| pesticides_daminozide | <LOQ |
| pesticides_naled | <LOQ |
| solvents_methylene_chloride | <LOQ |
| Date paid | 11/7/19 |
| solvents_trichloroethene | <LOQ |
| cannabinoids_cannabinoids_unit | % |
| pesticides_paclobutrazol | <LOQ |
| pesticides_kresoxim_methyl | <LOQ |
| pesticides_fenhexamid | <LOQ |
| pesticides_pesticides_unit | ppm |
| pesticides_parathion_methyl | <LOQ |
| pesticides_hexythiazox | <LOQ |
| Date Received | 2019-12-11 17:50:56 |
| Date Completed | 2020-01-03 19:50:47 |
| pesticides_cypermethrin | <LOQ |
| pesticides_chlorpyrifos | <LOQ |
| pesticides_clofentezine | <LOQ |
| pesticides_pentachloronitrobenzene | <LOQ |
| pesticides_chlordane | <LOQ |
| pesticides_coumaphos | <LOQ |
| pesticides_metalaxyl | <LOQ |
| pesticides_chlorantraniliprole | <LOQ |
| pesticides_fenoxycarb | <LOQ |
| cannabinoids_thcv | ND |
| pesticides_fludioxonil | <LOQ |
| cannabinoids_d9_thc | 0.0204 |
| cannabinoids_d8_thc | ND |
| cannabinoids_cbga | ND |
| cannabinoids_cbg | 0.0293 |
| cannabinoids_cbdv | ND |
| cannabinoids_cbd | 0.7751 |
| pesticides_abamectin | <LOQ |
| solvents_1_2_dichloro_ethane | <LOQ |
| pesticides_mevinphos | <LOQ |
| pesticides_spinosad | <LOQ |
| cannabinoids_cbda | ND |
| cannabinoids_thca | ND |
| solvents_ethyl_acetate | <LOQ |
| cannabinoids_cbn | ND |
| pesticides_pyridaben | <LOQ |
| pesticides_imidacloprid | <LOQ |
| pesticides_fenpyroximate | <LOQ |
| pesticides_spirotetramat | <LOQ |
| Actual Total CBC mg/package | 8.3 |
| Shipping cost | Free |
| pesticides_acetamiprid | <LOQ |
| pesticides_cyfluthrin | <LOQ |
| pesticides_propiconazole | <LOQ |
| pesticides_diazinon | <LOQ |
| solvents_ethyl_ether | <LOQ |
| pesticides_ethoprophos | <LOQ |
| pesticides_chlorfenapyr | <LOQ |
| pesticides_spinetoram | <LOQ |
| cannabinoids_cbc | 0.0767 |
| pesticides_malathion | <LOQ |
| pesticides_pyrethrins | <LOQ |
| pesticides_permethrin | <LOQ |
| pesticides_dimethomorph | <LOQ |
| pesticides_dimethoate | <LOQ |
| pesticides_propoxur | <LOQ |
| pesticides_imazalil | <LOQ |
| pesticides_methomyl | <LOQ |
| pesticides_myclobutanil | <LOQ |
| pesticides_methiocarb | <LOQ |
| pesticides_flonicamid | <LOQ |
| pesticides_fipronil | <LOQ |
| pesticides_dichlorvos | <LOQ |
| pesticides_phosmet | <LOQ |
| pesticides_prallethrin | <LOQ |
| solvents_ethanol | <LOQ |